India is a country known for tradition and diversity. The festivities here are a mirror of the culture here. Every festival has its own importance and its own way of celebrating. While many festivals are celebrated here, there are some main festivals which are globally famous. One of them is " Holi ". Holi which we also call Rangotsav .. means festival of colors. Point out the colors and incomplete Understand did not name Sri Krishna Jaato thing, because they like Lord Krishna's life is filled with every color dark day and white pure mind, his colorful Morpankh etc. -etc. So like this, the whole country remains in the colors of Holi, but those who play the most unique Holi are Shri Banke Bihari Ji.
Holi starts at Mathura – from Vrindavan i.e. from Shri Banke Bihari ji temple where Krishna Kanhaiya is the first to play Holi with his devotees, since Kanha was born in Mathura and has done his wonderful performances in Vrindavan, hence Holi special in both these places. Matters. In Vrindavan, the excitement of Holi starts from the month of January. On Basant Panchami, God is offered Gulal Abir. The specialty of Shri Banke Bihari Ji's temple is that Holi is played here a day before Holi. The next day, people play Holi across the city.
It is believed that on this day Sri Bhagwan is first painted. It is also called Chhoti Holi.
According to the time, after the doors of the temple are opened at 9 o'clock, the bright color of the flowers of tissues, roses etc. is first applied to Shri Banke Bihari ji and then he is worshiped by pouring lots of flowers on it and applying Abir Gulal. Then their door is opened for the people. Devotees – Gana freezes color, Abir – Gulal, flowers etc. on Kanha.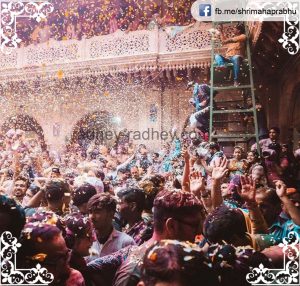 The entire temple becomes Govind Maya, Kanha 's name is cheered all around , Shri Banke Bihari's name is fondly called. Every person feels like Kanha is playing Holi with him. The festival ends around 1:30 pm. Holi of Mathura Vrindavan, especially the Holi of Shri Banke Bihari Temple, shows us the fullness of life.
Gives a wonderful experience of Gods proximity. This Holi is very special because it has devotion, love and a feeling of being direct to God.
Facebook Comments